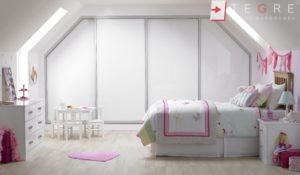 Attic Conversions – Sliding Wardrobes & Doors
Attics are designed for storage, but we usually make poor use of their space. If you know that your attic is not working for you and you're thinking about a renovation or conversion, we have the best solutions. Since our wardrobes are not limited by standard measures, we can create fitted wardrobes based on the available space regardless of the place, whether it's under a slanted ceiling, at an angle, on a corner or any awkward shape.
We design and build fitted sliding wardrobes that make organising and sorting more efficient. The materials we use are equally stylish and durable, which allows us to design great looking wardrobes that you can rely on for proper storage.
Give your attic another useful dimension and stop wasting its potential, get in touch with us and we will be happy to assist you. And you don't have to take our word for it, you can check our gallery section and see what we can do for you.