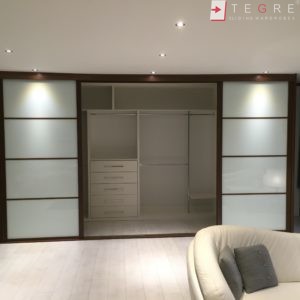 Sliding Wardrobes Interiors
Just because the outside of the wardrobe is what plays a bigger role in the style it can bring to your room, that doesn't mean that we don't pay as much attention to the interior. Custom-made wardrobes are more than materials and colours; we design them as a solution for your storage needs. We can use the interior space to configure drawers, shelves and cabinets for all purposes.
From watch or tie drawers to shoe holders and racks, whatever it is that you need inside your sliding wardrobe, we can build it. And of course, we offer a wide range of materials and finishes, ensuring that it will look as good on the inside as it does on the outside.
You don't have to take our word for it, you can check our gallery section and see what we can do for you. Or give us a call, we'll be happy to assist you.