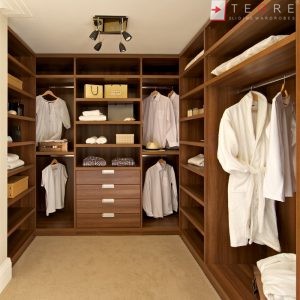 Sliding, Fitted Walk in Wardrobes
Whether you want to remodel your existing walk-in wardrobe or have one built from the available space in your room, we got you covered. We can make the front and interior look the same and blend seamlessly with your room; even matching the floor and ceiling. We can create entirely different but matching styles for your walk-in wardrobe using a variety of materials. If you can imagine it, we can build it!
Walk-in wardrobes are all about space and allocation. You don't need an entire room to build a spacious wardrobe. With and efficient use of space and the correct configuration of drawers, poles, rails, racks, cabinets and shelves, you can use space in a way that can only be compared to magic. Simple design decisions, like the use of glass, enable the penetration of external natural light; and more complex setups, like controlled artificial light, allow light to work together with your mirrors and internal colours.
You don't have to take our word for it, you can check our gallery section and see what we can do for you. Or give us a call, we'll be happy to assist you.