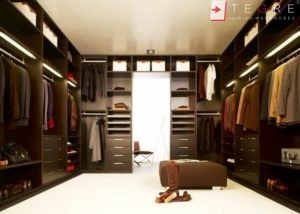 Walk in Wardrobes Interiors
Inside the walk-in wardrobe is where the magic happens. That's why we put so much effort in coming up with innovative ideas to use the available space and propose creative solutions for your storage needs. The interior designs for walk-in wardrobes that we create are the perfect balance between craftsmanship, technology, efficiency and style. From the lighting to the surface material; everything inside your wardrobe works to make your life easier.
With our wide range of materials, from wood to glass, we can design classic and modern wardrobe interiors that provide all the functionality you would expect: sliding doors, butterly smooth drawers, sturdy poles and racks, special compartments, shoe towers, cabinets, full body size mirrors, secret compartments… the possibilities are endless.
You don't have to take our word for it, you can go to our gallery section and our designs. Or give us a call, we'll be happy to assist you.